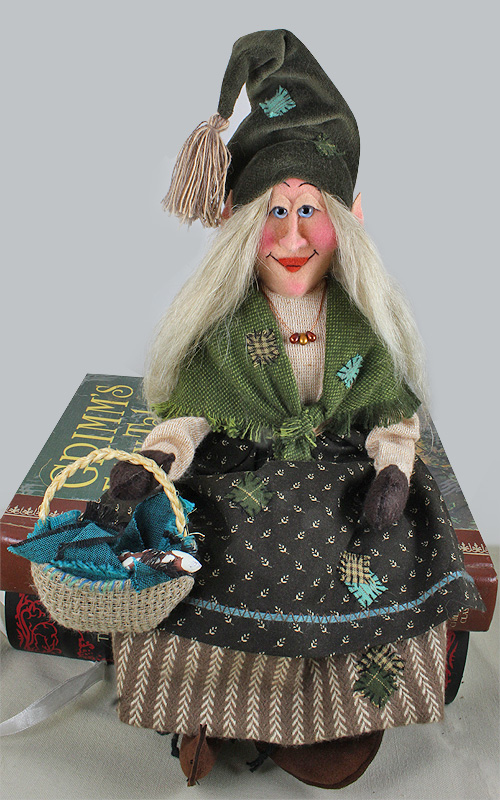 Lille comes with a felt-covered wire back rest. This allows her to sit upright on shelves, without having to lean on anything. Click here for back rest image. Please note that the dolls no longer come with cedar stumps.

We use no molds for our figures - each face is handsculpted, one at a time, which means each face is different. This is what makes each handmade doll unique. While the faces of the men elf dolls do vary a little, the faces and the hair of the lady dolls vary greatly from doll to doll, so each lady doll's face is photographed individually.


Lille is an avid baker! In her basket she carries the warm, delicious loaves of bread that she loves to bring to her neighbors and friends.

Lilly is wearing a yarn-dyed cotton flannel skirt in a pattern of pale brown and cream, and a shirt made of yarn dyed cotton. She has a cotton apron trimmed with narrow organic cotton braid and a yarn dyed cotton flannel shawl to keep her snug. (It's fun to note that the delicate hand-dyed braid trimming her skirt, is made in South Carolina with an antique braiding machine and 13 strands of organic cotton yarn). She has beige cotton velveteen legs, and is covered with handstitched patches. She wears a cotton velveteen hat with an organic cotton yarn tassel. A glass bead necklace completes her outfit.

From one arm Lille holds her basket, made from hemp, and trimmed with organic cotton yarn and hemp. Her basket contains a freshly baked loaf of bread.

Lille is 14" tall (12" when seated), as measured from the top of her head (not the top of her hat) to the bottom of her boots.

Lille's face is hand sculpted using felt over clay. Her eyes are handblown/handpainted German glass. Her hair is made from natural flax fiber (grey) or natural hemp fiber (white). She is stuffed with a combination of recycled glass pellets and organic cotton stuffing. Her arms are wired. All of our dolls are 100% vegan.